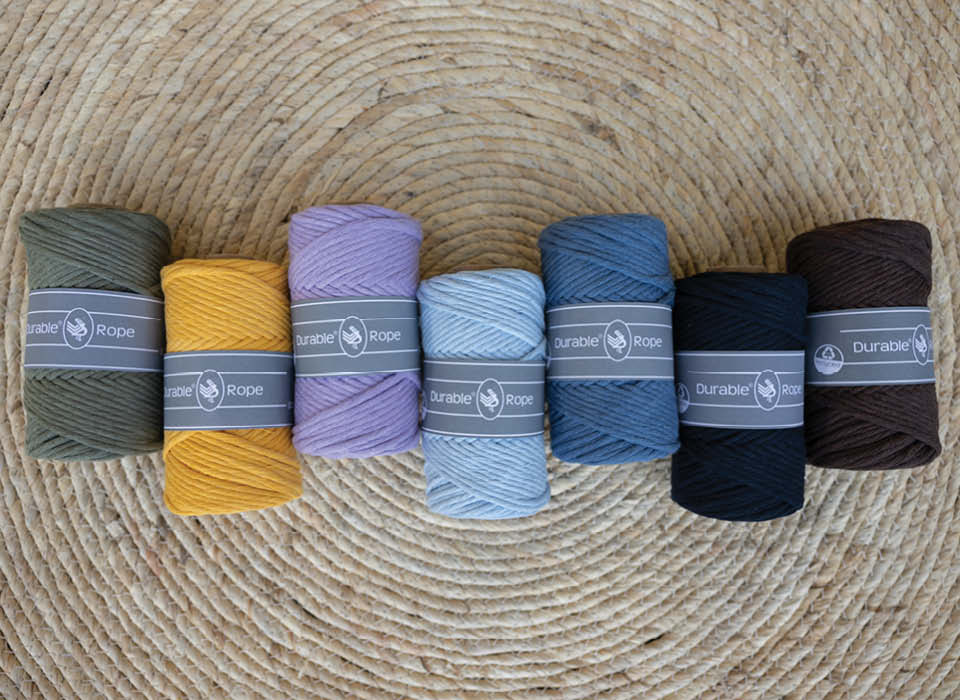 New colors Durable Rope
We have added 7 new colors to the Durable Rope assortment. Durable Rope is a chunky yarn composed of multiple thin strands, which makes it very suitable for macramé projects as well as for making tassels, feathers and fringes, cause it's easy to comb. With the macramé knotting technique you can create the most beautiful home decorations for your interior. Wall hangings, pillows, rugs, coasters, everything is possible and in no time you can change your home into a boho chic palace.
The new colors from left to right (see picture): 2169 Moss, 411 Mimosa, 396 Lavender, 2124 Baby Blue, 291 Vintage Indigo, 321 Navy en 2230 Dark Brown.
The new colors have a slightly different fibre content than the current ones in the assortment.
Current blend: 70% recycled cotton, 30% recycled polyester
New blend: 70% recycled cotton, 25% polyester, 5% other recycled fibers
Eventually all colors will have the same fibre content. The change in fibre content is not visible and has no effect on the existing patterns.
Besides adding new colors we also discontinued some colors. The following colors will be available while supplies last: 2207 Ginger, 343 Warm Taupe, 405 Cypress, 2138 Pacific Green en 309 Light Yellow. Still like to order these discontinued colors? Then hurry!